Introducing the new Notch Pop Box
The Pop Box is a revolutionary new way to manage your throw line. No more messing around with opening and closing a throw cube prone to rats' nests and breaking around the frame. Looking for more information on the Pop Box? Look no further. If you have any additional questions, please don't hesitate to reach out on the product page or through our Contact Us form.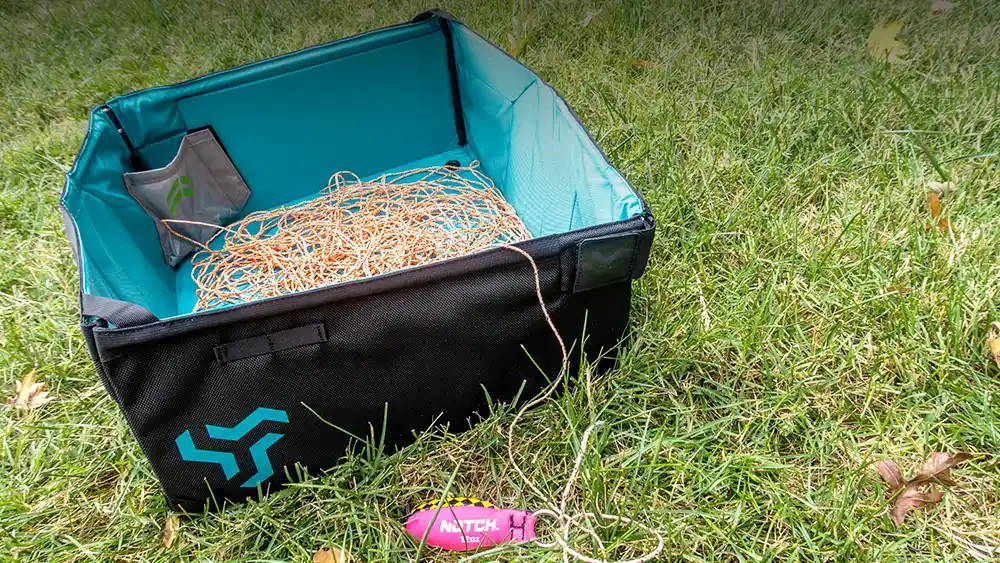 The reason we invented the Pop Box is for quick and efficient deployment of an arborist throw line and throw weight.
Traditional throwline cube design contains fiberglass rods that are prone to burst through the textile material corner construction rendering the product useless.
The Pop Box is extremely easy to open and does not require any twisting motion to close therefore the throwline remains tangle-free during storage, transport, and use.
The Pop Box accommodates storage of 2 throw weights, ranging from 8oz to 16oz sizes along with a throwline, most commonly in the 1.75mm - 2.2mm diameter range, up to 250' in length.
The Pop Box is unique in a lot of ways.
Unlike conventional throwline cube design, it does not depend on the fiberglass support rods to provide structure and support for the container.
It does not require a special technique to open or close. Simply unhook the outside closure strap, place it on the ground, and the spring-loaded hinges self-open the container. When you're ready to stow, press & fold to close.
Because it does not require twisting to close, the throwline remains flat and tangle-free for each use.
The walls of the Pop Box are lower, which allows the throw line to deploy freely, reducing drag when you set your line.
The low walls and low center of gravity resist tipping over in windy conditions.
Folds into a compact rectangle-shaped carrying case. With a closure strap that keeps the box flat and easy to store and transport.
Ensure that you properly flake the throwline into the container to prevent twisting and entanglement of the throw line.
There are two pockets at opposite corners of the box, for the top and bottom end of the throw line and throw weights. Keep throwline ends separate from each other. Stow throw weights in these corner pockets to maintain equal weight distribution.
Store the container in a dry, cool place. Avoid contact with sharp objects. Use the provided closure strap to properly close the container prior to storage. Refer to proper flaking technique for your throw line to maintain tangle-free deployment.
Empty out any collected debris as needed. Wipe with a damp cloth as necessary.