Four excellent new products to start 2023
It's new product time at Notch Equipment!
Here's a Notch Insider look at four just-released (or about-to-be-released) products we know arborists will love.
At Notch Equipment, we're constantly innovating, and we partner with working arborists to make sure we're developing products that will make a difference. We spend a lot of time—sometimes years —honing our products so that everything we develop improves safety and efficiency.
And when it's time to release those products? Well, we're always excited when that time comes. And when those releases happen to coincide with the holiday season, all the better!
We recently launched one new product, and three more are on the way in the coming weeks:
• Wear Safe™ Aluminum Friction Rings and Friction Savers—available now!
• Coming 12/12/22: Notch Gecko Carbon Fiber 2.0 Climbers
• Coming 12/19/22: Notch Canopy Work Gloves
• Coming 1/16/23: Notch Glide Rope Grab and positioning lanyards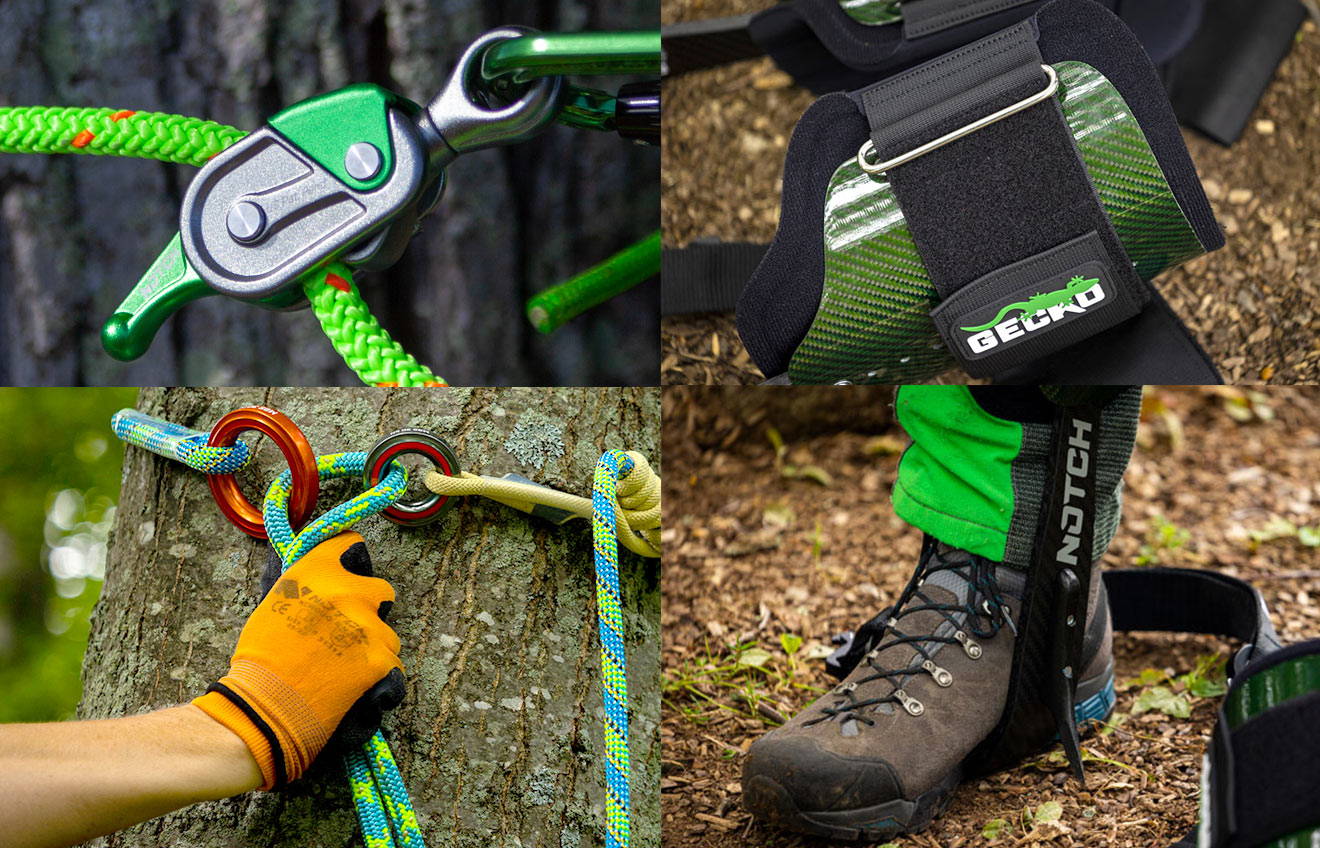 To get a behind-the-scenes look at the development of these products, we connected with Mike Ziecik, Category Director for, Arbor at Notch Equipment. Ziecik knows these products like the back of his hand—and can share insider details about development, testing, or function that you might not get in a product description. Read on to see what he had to say about this new gear.
Wear Safe Aluminum Friction Rings and Friction Savers - available now!
As with our Wear Safe Steel Rings, these aluminum friction rings feature an industry-first wear indicator built into the ring. The indicator means that a quick visual inspection is all it takes to see if the ring needs to be retired.
"Over the years, we have seen photos of various worn rings, whether rings on Friction Savers or on rope bridge harnesses, with severe wear patterns, and we always wondered why users didn't replace them," Ziecik says. The team at Notch wanted to make it super-easy—and they nailed it with these rings.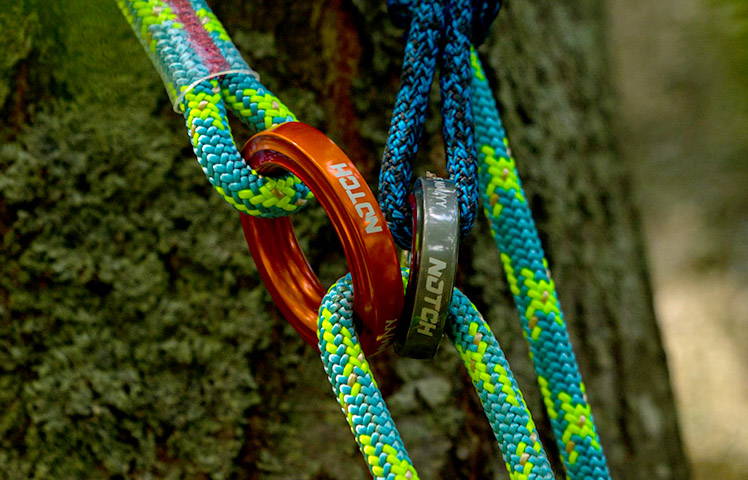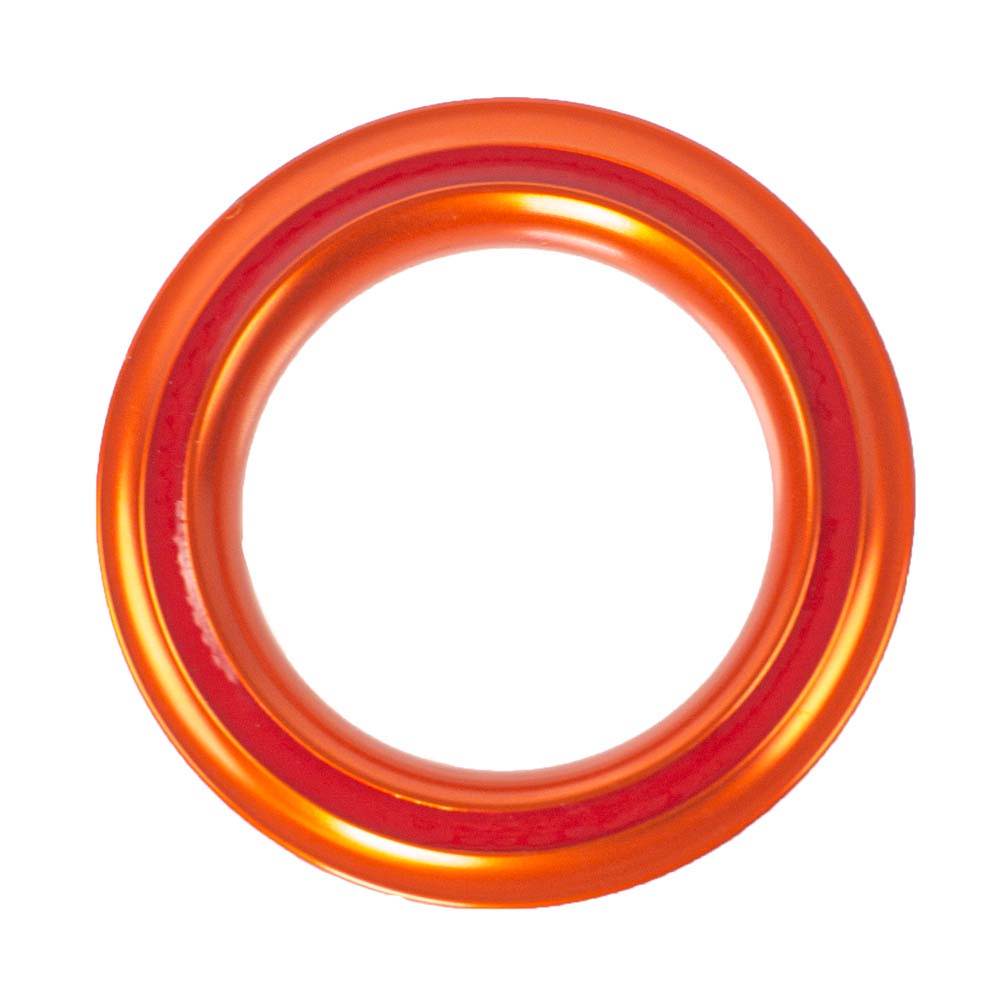 Fun fact: We experimented with different ring shapes, but kept 'circling' back to the traditional shape. It turns out that maintaining roundness is critical for the optimal performance of this product.
Notch Gecko Carbon Fiber 2.0 Climbers (coming 12/12/22 available now)
Simply put, these win "best in class" in the category. Sure, the comfortable new cuff design and custom green foil pattern are great, but it's the carbon fiber that really sets these climbers apart. "These are the lightest climbers on the market," Ziecik says. "For users who spend a lot of time in their spurs, the weight savings achieved with carbon fiber will be quickly appreciated—especially at the end of a day spent climbing."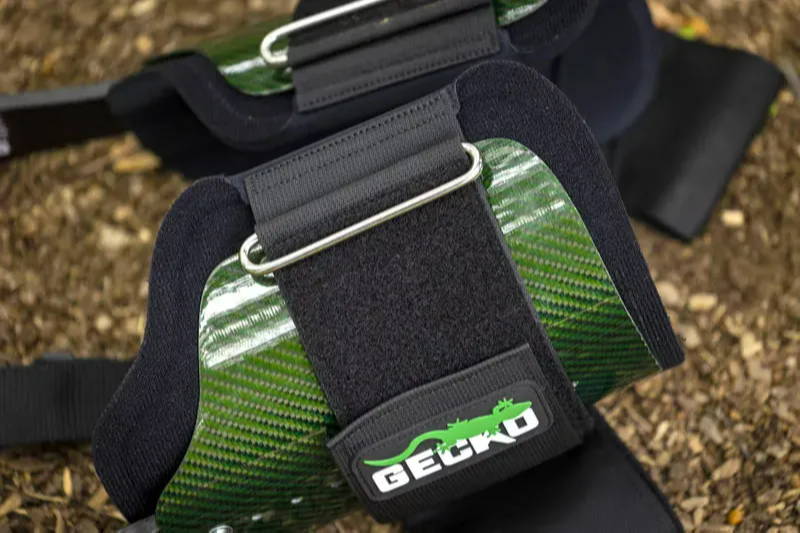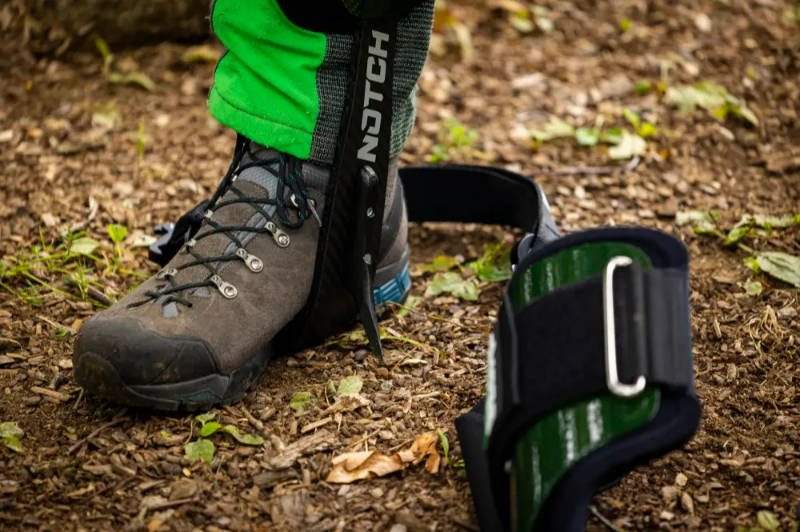 Fun fact: "Carbon fiber is not an easy material to work with," Ziecik says, "and the unique shape of the climber made it difficult to lay the carbon fiber fabric uniformly in the mold when we were initially developing the product. We had a lot of rejects in the initial prototyping—we went through several rounds before the current shape was approved for use."
Notch Canopy Work Gloves (coming 12/19/22 available now)
Our rope running gloves (like our Arborlast gloves) have always been thick and robust—and they're great for what they do. But sometimes a lighter glove is all that's needed. That's where these Canopy Work Gloves come in.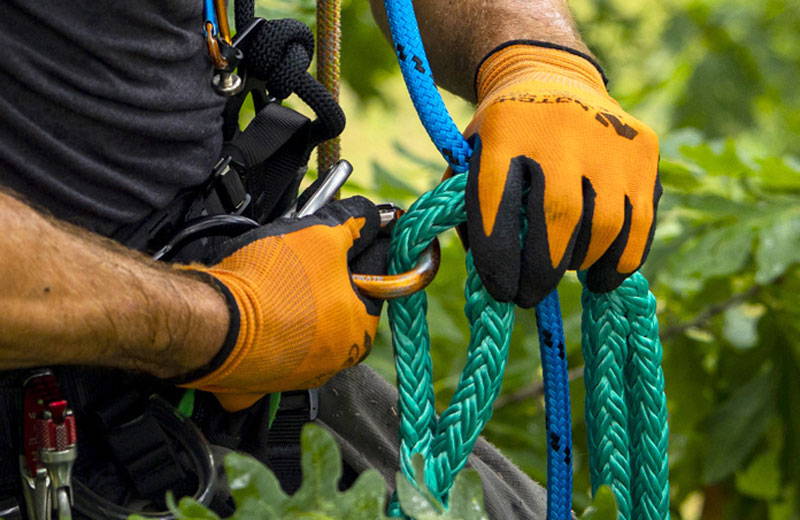 "These gloves are knit with latex-dipped palms," Ziecik says. "They offer great dexterity, which is absolutely necessary for operating climbing hardware."
Each model also has four numbers clearly printed on the back of the hand that represent the European grading system for resistance to a specific hazard so that users can choose the best glove for the job at hand (no pun intended).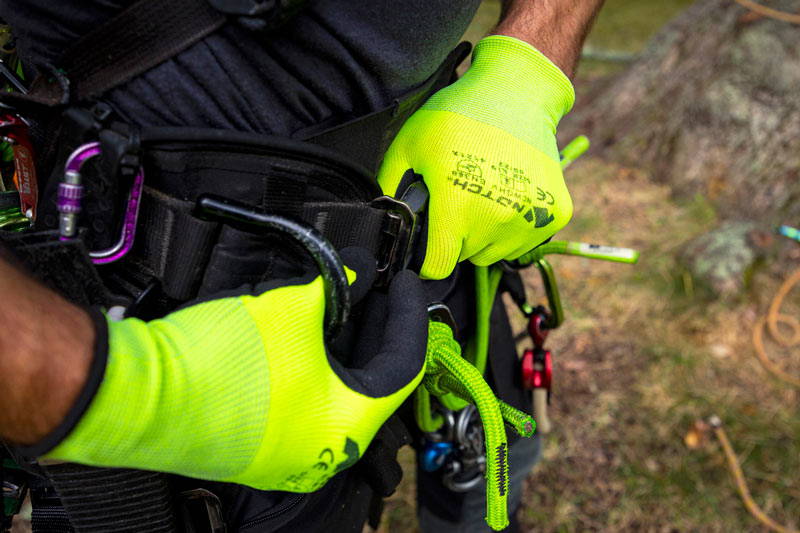 The scale, in order of appearance on the glove (from left to right):
• Abrasion resistance: min. 1, max. 4
• Cut resistance: min. 1, max. 5
• Tear resistance: min. 1, max. 4
• Puncture resistance: min. 1, max. 4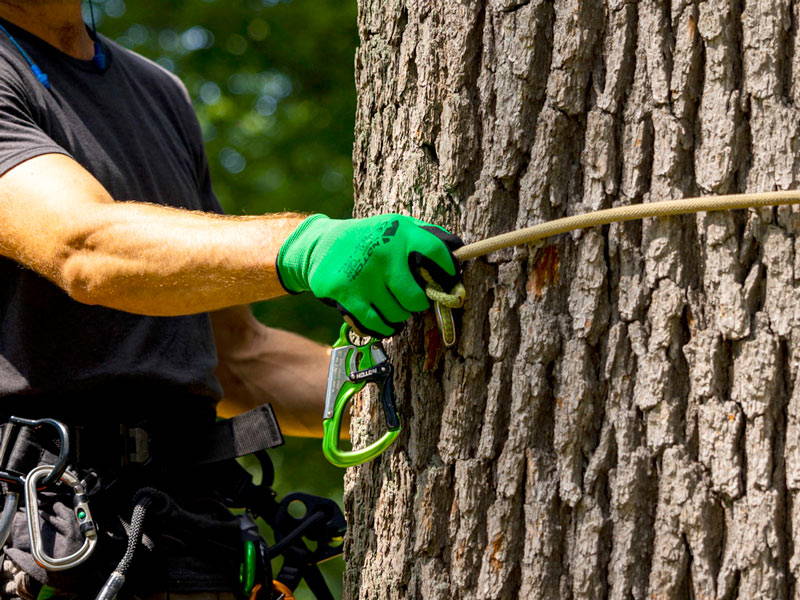 "These are an exceptional value for the customer," Ziecik says. We couldn't agree more.
Notch Glide Rope Grab and positioning lanyards (coming 1/16/23)
Most rope grabs on the market seem…the same. So the team at Notch set out to create an option that not only looks different, but that also eliminates the jerky feel that happens when rope is released using a standard grab. The result is this new Notch Glide Rope Grab, with unique cam geometry that provides a super-responsive feel with smooth, user-friendly modulation.
"Beyond that, the majority of the rope adjusters on the market have one cam size that can't be optimized for the rope diameter and type," Ziecik says. "The Glide has the ability (depending on the cam's orientation) to create optimal friction settings for a variety of rope diameters."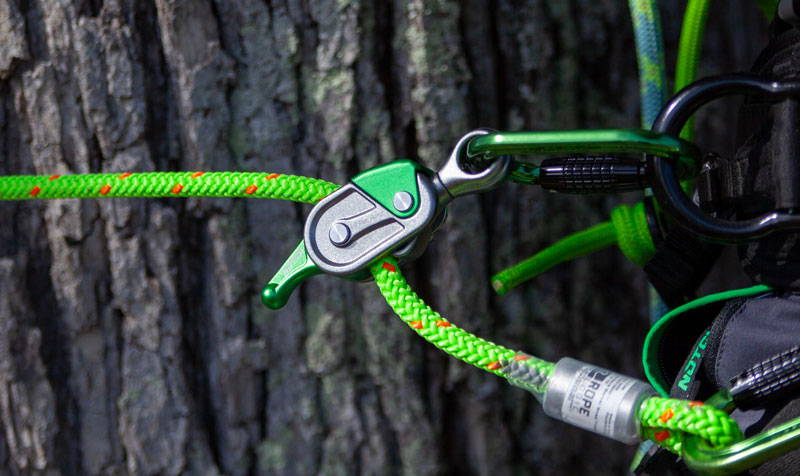 Easy to use: "In some respects, the best way to grab this adjuster is like you would a conventional friction hitch cord—it's very intuitive and will remind some users of their first time using lanyards," says Ziecik. "I think customers will appreciate how it feels and how responsive it is."
Check Back Often!
Notch has a big year planned, with more product launches coming in 2023 than ever before. Look to Notch Insider for info and resources for all your gear—as well as sneak peeks and insider insights you won't find anywhere else.